Sessions with Suzanne (Every 2nd Tuesday at 10pm)
Scheduled on
| | | | |
| --- | --- | --- | --- |
| | | | |
| Tuesday | 10:00 pm | | 11:59 pm |
Tagged as:
Sessions w/ Suzanne
Hosted by: Suzanne Harris and Gibby K.
Sessions w/ Suzanne is a platform for bands/musicians to perform live and talk about themselves and their music.  It is a way for people to get familiar with bands based in our community and touring here.  The second part of "Sessions" is a showcase for choice cuts of local, national and global independent music. The show is hosted by Suzanne Harris with Gibby K, her longtime friend, sidekick, and raconteur.
Suzanne has a booking and management company, Suzanne Harris Music. Her roster includes Tukkiman, Mario Abney, Vagando, Original Chicago Blues All Stars.
She is always looking for excellent talent and music.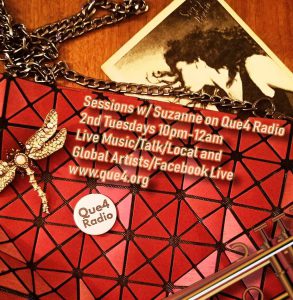 ---
Read more
---