---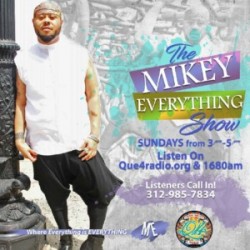 ***1st & 3rd Sundays***
Creative Director, Internet Television Personality and CEO, Michael Nelson better known as,
"Mikey Everything", is a force to be reckoned with. Born and raised native to Oak Park, IL.,
Nelson has the unique opportunity to see the contrast between a privileged community and an
under-served community. This is what led Mikey Everything to committing to the welfare of
LGBTQ youth in Chicago. He serves as a mentor and role model with the Georgia Doty
Outreach Organization. Mikey Everything is an advocate for love and acceptance. His knack
for adding the perfect visual presentation to any creative piece is almost uncanny. Due to the fact
that Mikey Everything is a dancer and songwriter, he is able to contribute to multiple aspects of
the creative process. Under Nelson's direction, artists such as Ya Yah Townsend have been able
to take an ordinary list of songs and transform it into an aesthetically-pleasing treat miincluding
dancing, costumes, and even theater!
Michael believes that the arts is a conduit for healing all communities. He provides a
platform to local artists, organizations and entrepreneurs to be heard. As a co-creator and on-air
co-host of the CSOO Live Show (Chicago Supports Our Own) he is known for his vibrant, open,
and charismatic personality. In addition to his edgy, elevated, and effortless style, guests
immediately feel comfortable and wear their heart on their sleeve in Mikey's company. Listen to
the Mikey Everything Show on www.que4.org!
Schedule
Sunday - 3:00 pm - 5:00 pm
Playlists